Gardeners in cold climates can enjoy the fruits of their home orchard when they plant cold-hardy favorites and exotics.
A cold climate requires hardy trees that thrive in freezing winter temperatures. While the average extreme winter temperatures of 10 to 15 degrees Fahrenheit in U.S. Department of Agriculture plant hardiness zone 8 seems freezing to a gardener accustomed to the mild winters of USDA zones 9 or 10, a USDA zone 3 gardener finds USDA zone 8 almost balmy. Among the best fruit trees for a cold climate are apples, cherries and plums.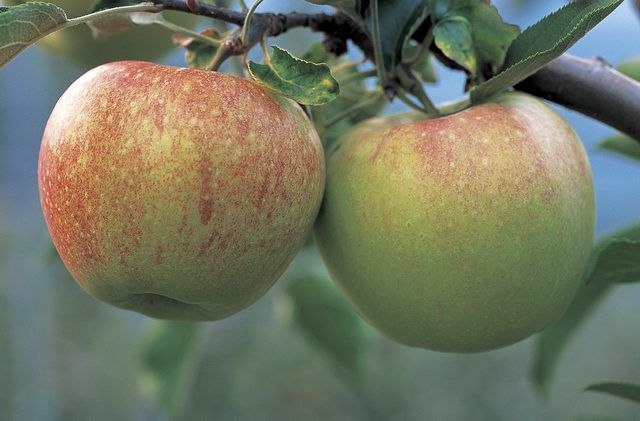 Familiar Favorites
Apple
The apple (Malus pumila) is hardy from USDA zone 2 through 9, depending on the cultivar. Some cultivars, such as 'Early Harvest' and 'Honeycrisp,' hardy in USDA zones 3 through 8, are available in standard, semi-dwarf and dwarf sizes. Other cultivars are only available as dwarf trees, such as 'Kindercrisp' and 'CandyCrisp,' both hardy in USDA zones 4 through 7. Among the hardiest of the apple trees is 'Norland,' a natural semi-dwarf, which thrives in USDA zones 2 through 7.
Cherry
While sweet cherry trees (Prunus avium), such as 'Bing' and 'Black Tartarian' are only hardy in USDA zones 5 through 8, pie cherries (Prunus cerasus), also known as tart or sour cherries, are tough enough to endure the winter temperatures of USDA zone 3. Semi-dwarf 'Meteor' and dwarf 'North Star' sour cherries thrive in USDA zones 3b through 9. In addition to their ability to withstand winter temperatures, pie cherries don't require a second tree to produce fruit. If your space is limited, you can grow one tree and still harvest a crop of cherries.
Pear
The common pear (Pyrus communis) is not as hardy as the apple, but a few cultivars thrive and produce fruits in USDA zones 4 through 8, including 'Flemish Beauty,' 'Moonglow' and 'Sierra.' A few cultivars survive extremely cold temperatures, such as 'Stacey' and 'Savignac.' They are hardy in USDA zones 2 through 6 and 7, respectively. Most pears require a pollinator, so plant two trees or graft a branch of a compatible cultivar onto your tree.
Plum
Hybrid plums (Prunus spp.), usually crosses of Japanese (Prunus salincia) and North American native plums (Prunus spp.), are the hardiest members of the plum family. Among the cold-tolerant cultivars are 'Alderman,' 'BlackIce' and 'LaCrescent,' which all tolerate USDA zones 3 through 8. Dwarf plums that prefer the slightly warmer winter temperatures of USDA zones 4 through 7 include 'Bubblegum' and 'Superior.'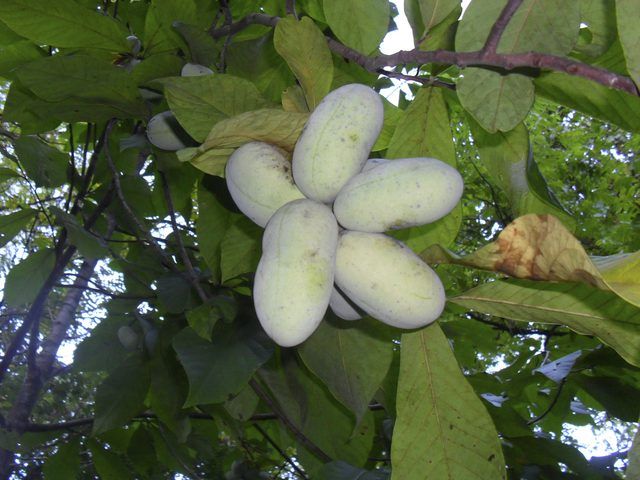 Exotic Choices
Fig
Native to the Mediterranean, the common fig (Ficus carica) is generally grown in the warmer temperatures of USDA zones 8 through 10. However, the cultivar 'Chicago Hardy' thrives in USDA zones 5 through 11. While extreme winter temperatures may kill the foliage, it springs back to life from the roots when the weather warms. Figs fruit on new wood; regrowing from the roots has no effect on the fig crop.
Mulberry
A North American native, the red mulberry tree (Morus rubra) produces raspberry-like fruits in late spring. These flavorful fruits are made into preserves, pies and other sweet treats. You need two trees, one a male and the other a female, to produce fruit. However, if you are allergic to pollen, the male members of the Malus family produce huge amounts of pollen in spring. The red mulberry thrives in USDA zones 5 through 9, from Florida to southern Ontario, Canada.
Paw Paw
The creamy banana- and pineapple-flavored fruits of the common paw paw (Asimina triloba) are an added bonus to this hardy, tropical-appearing small tree. It has the largest fruit of any North American native plant. The paw paw prefers light or filtered shade for the first two years, and then it can tolerate full sun in USDA zones 5 through 9.
Check out these related posts