Prairie-style gardens offer easy-care beauty and -- by including native grasses and wildflowers, encourage native birds, pollinators and wildlife.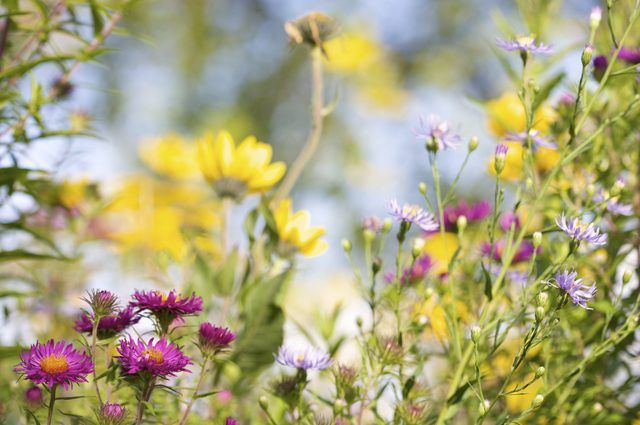 Vast grasslands called prairies once dominated the heartland of this country, vegetation that adapted to many prairie habitats, including wet, mesic and dry sites. The thousands of acres of prairie lands native to this country are all but gone, having given way to urban development or crop cultivation. But prairies are making a come-back as gardeners turn away from labor- and water-intensive lawns and toward more diverse and self-sustaining habitats.
Prairie as Habitat
Prairies typically receive scant rain, experience blazing heat in the summer, and shiveringly cold winters. Prairie ecosystems often have soil rich in organic material because of the regular decomposition of grass roots over time. The grass-rich lands supported diverse animal and insect populations.
But prairie habitat is not all alike. Wet prairie plant communities thrive in areas where the soil is waterlogged at times during the year. Dry prairie plants have adapted to shallow soils and minimal precipitation, and are often found on steep hillsides that are difficult to cultivate. Grassland areas that are neither wet nor dry are termed mesic, and the mesic plant communities include vigorous grasses and myriad wildflower species.
Prairie-Style Gardens
While few gardeners have hundreds of acres to dedicate to a prairie ecosystem, a prairie-style garden project need not be so ambitious to be beautiful and environmentally sound. Prairie-style gardens, prized for their charming mix of native wildflowers and grasses, can be created in almost any region. They delight gardeners and visitors, as well as myriad types of birds, pollinators and other wildlife. Moreover, once a prairie-style garden is established, it may require far less water, fertilizer and pesticides than more traditional American gardens.
Creating a Prairie-Style Garden
Things You'll Need
Black plastic tarp
Rototiller
Grass and wildflower seeds
Step 1
Tour your terrain and look for possible spots to install a prairie-style garden. Select a spot with a flat, open field or an area of rolling land without many trees. Direct sun is essential for the native wildflowers and grasses that traditionally inhabit prairies, as well as sufficient elbow room; these types of shallow-rooted plants are easily pushed out by trees and shrubs with shallow roots.
Step 2
Look for standing water on your potential prairie area soil. Walk about after a heavy rain and note how fast the water drains into the earth. Many prairie plants prefer well-drained soil, and it is critical to determine your site's drainage before you plant.
Step 3
Spread black plastic tarps over the prairie site the summer before you intend to plant. This kills off existing grass, weeds and other vegetation from the area and makes it easier to remove. Till the area in spring before planting.
Step 4
Select grasses and native wildflowers to plant in your prairie garden. Be sure you choose species that grow well in the soil and sun exposure you have to offer. Include at least 60 percent grass in the mix. Buy either seeds or small plants, depending on your budget and your patience. Seeds are cheaper and quicker to plant but a seeded prairie garden can take five years to establish.
Step 5
Broadcast seed by hand in spring just after the last frost. Pass in at least two different directions for full coverage. As a rule of thumb, for every 1,000 square feet of prairie garden you need 1/2 pound of grass seed and 2 ounces of wildflower seed. Water gently and thoroughly after planting and cover with a 2-inch layer of weed-free straw to hold in moisture. Take care not to pack the straw too densely so that you do not smother the seeds.
Step 6
Dig out weeds as they appear during the first few years after you plant the prairie garden. Alternatively, mow the first year setting the mower blades high -- up to 8 inches -- to control weeds as they come in. Remove all clippings to encourage growth of wildflowers and grasses. Once the prairie is well established, the dense vegetation blocks out weed growth.
Tip
Although it may seem easier to purchase "Prairie" seed mixes available in commerce, these may contain seeds of species that are not hardy in your region. Instead, look for seed mixes offered by local seed dealers that have been specifically tailored to your area. Your garden center is a good place to seek professional advice on what to select. Buy only seed mixes dated for the year that you will sow them.
Prairie Plant Choices
Select plants native to your area for your prairie garden. These plants already know how to adjust to your climate, precipitation and soil, and naturally attract native wildlife and pollinators. Generally native plants require less irrigation and maintenance than ornamentals.
Although native prairie plant seeds are available, you'll get a quicker start to your prairie garden by using native plant transplants. Never dig plants up in the wild, nor purchase plants that might have been lifted from nature. Instead, visit licensed nurseries that specialize in native plants. The native nursery is also a great source for species suggestions for your site. Here are some typical prairie plants to consider:
Grasses
Western wheat grass (Agropyron smithii), perennial thriving in U.S. Department of Agriculture plant hardiness zones 3 through 9, grows to 24 inches, mostly in spring and fall
Buffalo Grass (Buchloe dactyloides) perennial thriving in USDA zones 5 through 8, a short grass, up to 12 inches tall, that grows thick like sod
Sand Reed Grass (Calamovilfa longifolia), perennial in USDA zones 3 through 6, that grows to 5 feet, blooms in late summer and offers fall color
Other Plants
Coneflowers (Echinacea spp.) bright perennials in USDA zones 3 through 9,  with daisy-like blossoms in pink, red, purple or white
Prairie phlox (Phlox pilosa) in USDA zones 4 through 9, offering lavender blooms on stems rising to 24 inches high
Wild white indigo (Baptisia alba) perennial in USDA zones 4 through 9, growing up to 4 feet tall with very attractive foliage and flowers
Fringed gentian (Gentiana crinata) described as "America's loveliest wildflower" in USDA zones 3 through 6, 12 inch stalks, 2-inch tubular purple blossoms
Western sunflower (Helianthus occidentalis) USDA zones 3 through 9, grows up to 6 feet tall with showy yellow blossoms that appear in August through October
Check out these related posts